Products >> MS Grills Safety Gates Manufacturers In Chennai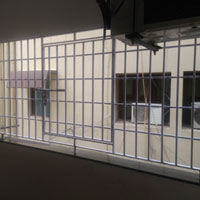 MS Grills Safety Gates In Chennai :
We have a large collection of grills that are welded and made from quality metal. All our grills are manufactured using superior quality mild steel. They ensure high durability and strength. Clients acknowledge these grills for their unique and impressive designs. We can fabricate main gates in both traditional and contemporary designs. Easy to install & maintain, these grills are anti-corrosive and have sturdy construction.

We are one of the leading ms grills manufacturers in Chennai. Our range of mild steel fabrication is creatively designed, durable and tensile, making us the preferred choice in the market.We design and fabricate superior quality and beautifully designed ms grills in chennai.
A mobile app that enable you to download and access directly using your android smart phone.